On-Demand Webinars  
This collection of webinars speaks to experimental design across industries that utilize tools that FluoroFinder offers on our platform. We regularly update these webinars as an invaluable resource for our community of users.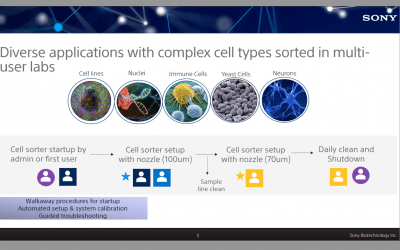 Speaker: Anthony Carcio, Field Application Scientist, Sony Biotechnology
This webinar will provide insights to researchers who are new to sorting or who operate shared flow facilities on how the Sony MA900 can support varied user needs and guided workflows for sorting. Learn how an automated and streamlined sort setup can increase the capabilities within a multi-user lab, review how the MA900 enables seamless setup and exchange of different chips without instrument downtime between users, and understand how the MA900 can be maintained in multi-user labs for successful, high-throughput, and gentle sorting of various cells.
read more
Trusted by leading Companies, Labs and Core Facilities worldwide