On-Demand Webinars  
This collection of webinars speaks to experimental design across industries that utilize tools that FluoroFinder offers on our platform. We regularly update these webinars as an invaluable resource for our community of users.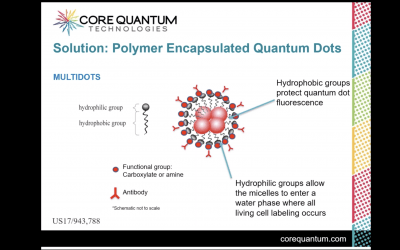 Speaker: Kristie Krug, CEO of Core Quantum Technologies
In this webinar, Kristie discusses the development and application of Core Quantum Technology's highly stable fluorescent reagents with narrow emissions and greater tunability, as well as their unique magnetic and fluorescent reagent that allows for magnetic separation and immediate fluorescent labeling.
read more
Trusted by leading Companies, Labs and Core Facilities worldwide