NovoExpress®
ACEA Biosciences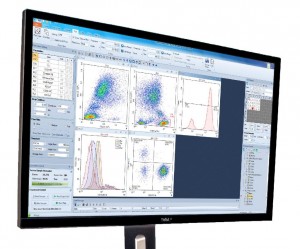 Data acquisition and analysis made simple. Future ready automation and high throughput capabilities. Intuitive user interface includes auto-compensation, customized plots and reports, and automatic maintenance functions.
Experiment Analysis Design
Experiment Manager provides a schematic view of the sample analysis being performed. This allows for access to cytometer setting,compensation matrix, report generation, and data analysis. Multiple samples can be analyzed with the same settings by a simple drag-and-drop template function.
Automated & Versatile Data Analysis Functions
Powerful NovoExpress software allows efficient data acquisition, data analysis and report generation. NovoExpress software provides flexible analysis templates and plotting tools, offering enhanced data analysis efficiency.

Pre & Post Acquisition Compensation
Instantaneous compensation results can be simply achieved by adjustment of the compensation scaling bar on the plot, allowing rapid and accurate compensation, thus eliminating tedious trial and error adjustments of compensation matrix coefficients.
A simple click of a button initiates the automated cleaning and de-contamination process and effectively removes any residual samples in the fluidics path, saving users' valuable time from laborious manual cleaning and decontamination routines.