Build Flow Cytometry Panels with Ease
Throw away your spreadsheets and close all of those browser tabs, FluoroFinder reduces the complexity of designing flow cytometry panels by providing the necessary information you need in one place.
Instrument Specific, Customized Panel Design
Build interactive fluorophore panels on the exact laser/filter configurations and channel specific fluorochrome preferences of the instruments available at your Core or Lab.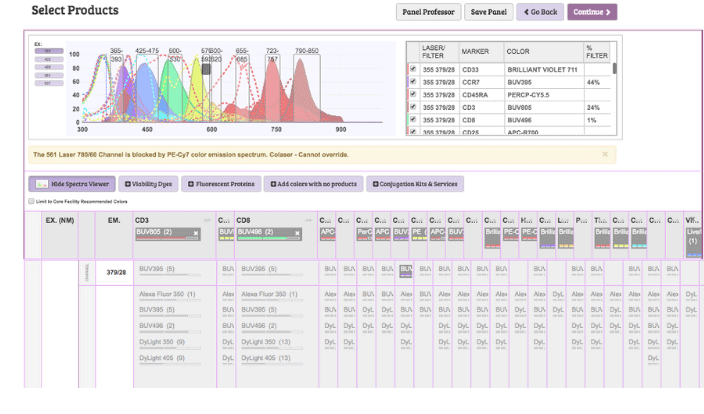 Fluorochrome Selection/Spillover Features
Choose products for your panel from any supplier. Intuitive design features including spillover and fluorochrome guides, channel blocking and comprehensive spectra viewer allow users of all levels to make better decisions and avoid errors.
Communication & Collaboration
Email panels with comments to your Core Manager before a sort • Create a collaborative research group • Save personal panels in your account with notes for later optimization.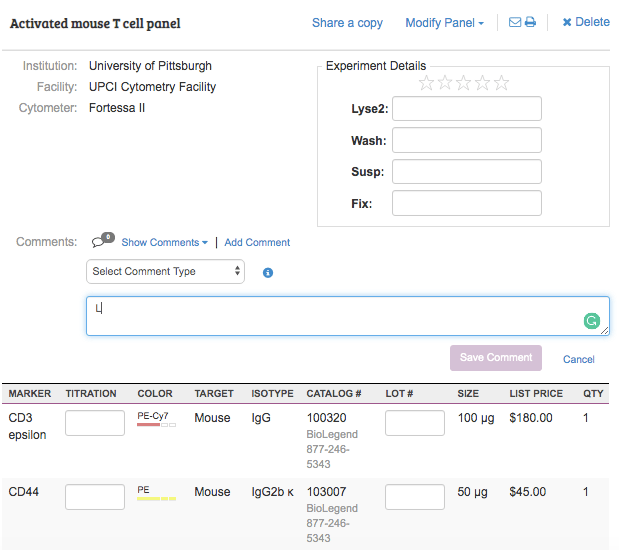 Join over 30,000 researchers worldwide using FluoroFinder
How can FluoroFinder be free?
While academics, non-profits and hospitals will always be able to use the basic FluoroFinder features for free, advanced features are available for a subscription rate (See plan options here).  Corporate users pay a subscription fee to access the platform.
Does FluoroFinder design panels for me?
While we cannot design your panels for you, we do provide you with the information necessary to make smart decisions, avoid errors and save time
Why do I need to register my own account if my Core/Lab is already set up?
Your Core Manager sets up the facility instruments for anyone at your facility to access. Creating your own account will allow you to save personal panels in a secure environment, use sharing functionality (email, print, export) and create collaborative groups with other researchers.
What should I do if my facility is not set up and I do not work at the Core?
Get started by contacting us! We'll help you set up the cytometer you'd like to work on.
Do I have to download anything?
No download necessary! FluoroFinder is a secure, cloud-based platform.