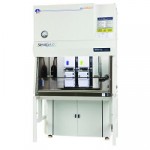 The iCyt SY3200 system is one of the most innovative and versatile Flow Cytometry Research platforms available in the market.
The innovative and flexible laser delivery array allows for ultimate laser compatibility, while the unique reflective collection optics ensure maximum fluorescence collection efficiency. Powerful, Sony designed electronics enable collection of high resolution data and ultra high speed cell sorting while maintaining superior sensitivity. Plug and Play PMTs in the Scalable PMT Array module provide the ultimate flexibility in collection options while minimizing cost.
The SY3200 provides true innovation to deliver a comprehensive cell sorting solution that meets the challenges of the increasing complexity of research flow cytometry applications.
Lasers: 4-6 (violet 405 and blue 488, yellow 561 and red 640)
Colors: Up to 30